We go through some of the staff top picks for this Black Friday sales week, remember this is just barely peeking at what's in store!!
Black Friday Shopping Guide
This years Black Friday (week) sale is going to be crazier than it's ever been with discounts I never thought were possible. Even while I was putting the list together, I was getting overwhelmed by the selection on sale page! We've never had a sale this big so I thought I should make your lives easier by giving you a Flamingo Black Friday shopping guide! I'm going to give you my top picks for 5 different categories, those being:
Kits
Squonk
RDA / RTA
Pod Systems
Mods
Accessories
Now don't forget to check out the whole sale page here, there's tons of stuff missing from here that you'll want to check out! I'll be throwing in some honourable mentions at the end that are going to be worth your while, but let's get into this little review/guide!
Kits
Vandy Vape Swell – $74.99 (Regular $99.99) 25% off
Now while this one may not be the most heavily discounted kit on the list, this one had me the most excited. The Swell kit hasn't been out on the market for too long, but it's build quality and features made it one of my favourite kits this year! First of all, the tank it comes with has mesh coils that give fantastic flavour and since it comes with the kit you're saving lots instead of buying a tank separately! One of my favourite additions is the waterproof chipset that they put in, meaning if you have juice spill or leak on the device you won't have to worry about it shorting out! You can literally take out your batteries, and rinse it under the sink, dry it off and start vaping again! And if that's not cool enough, this device also features bluetooth to allow you to find your device if it goes missing. If you're forgetful like me, having a device that you can make beep is a huge time saver in the morning before I start ripping apart my entire house. One last note I want to make is for the tactical gear lovers out there, because the panels on this mod are actually made out of G10 which is one of my favourite materials to hold. It's a high-pressure laminated fibreglass material that feels great, is super durable, and light weight so it doesn't feel like a brick! This is a jam packed device that's great for new vapers wanting a more powerful sub-ohm kit, and of course a great choice for pros as a durable every day setup!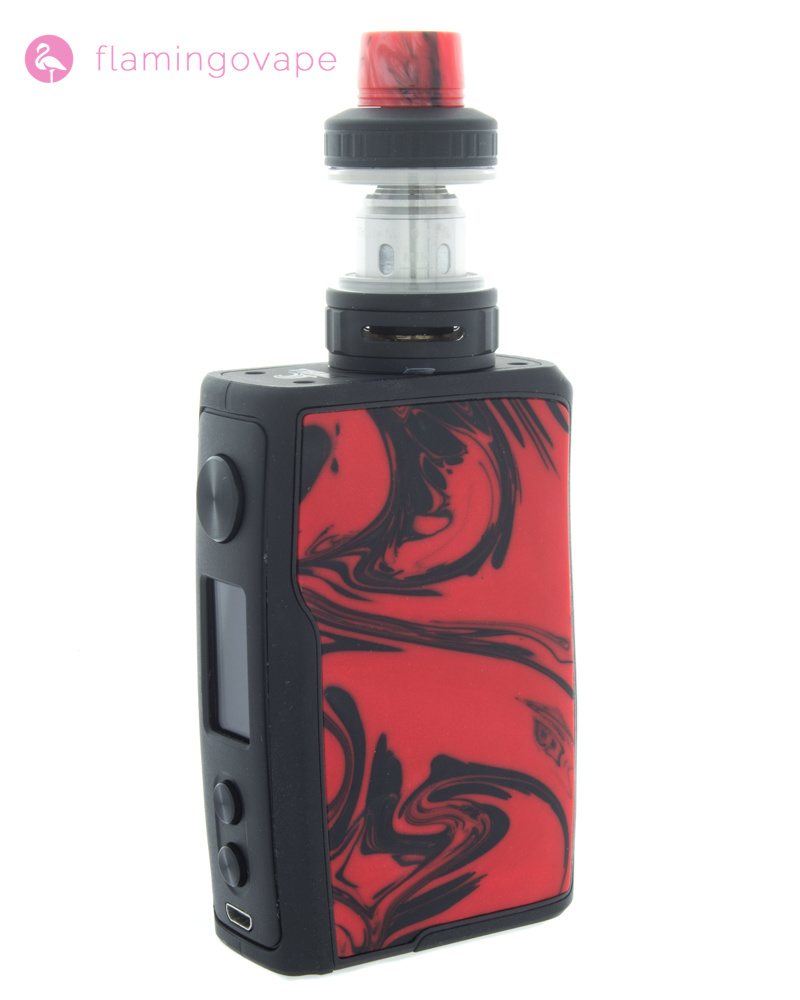 Squonk
Asmodus Spruzza – $49.99 (Regular $199.99) 75% off
This was a really hard choice to make because there's tons of fantastic options, but at this price point you'd be crazy to pass it up. Definitely read the honourable mentions because there's mods you do not want to miss! The biggest thing about this squonk mod is the use of stabilized wood for the door panels, which is one of the most luxurious materials to be used for vape mods! The original price point makes sense for this device, it has an extremely innovative (and I think patent protected) squonk mechanism that uses an easy to use pump system to get a consistent squonk rather than squeezing a bottle. This is super handy, if you've ever used a squonk mod you know how much of a pain it can be to squeeze that last 15% of the bottle, so that issue is finally solved! It feature's Asmodus' famous touch screen controls which are super easy to use and understand, and allows you to vape up to 80W while being powered by a 18650 battery (sold separately!) Now the only thing about this setup that I'm not a fan of would have to be the RDA that is included with the kit. It definitely does the job, but there's always a better option which is going to bring us into our next section that I'm actually going to make a two parter! 
RDA / RTA
HellVape Drop Dead RDA – $18.99 (Regular $39.99)
To continue on with the last section, I'm going to talk about one of my favourite RDAs we sell, also doubling as a great addition for the Asmodus Spruzza! I'm super happy to see this RDA on here because it's amazing if you're just getting into building or you've been doing it for years. The Drop Dead features a super easy drop in coil deck that gives you room underneath the coil to easily snip your leads without obstruction. Honestly, I'd argue that it's the easiest RDA to build on in the market today. What really makes this RDA fantastic for squonking is its high up airflow designed to perfectly hit the coils and increase flavour output. Because the airflow has a grid/honeycomb design to it, the airflow sound is very muffled and gives an extremely smooth vaping experience that rivals and even surpasses RDAs valued at 4x the price! Squonking or not, this is my go-to RDA for every purpose. But maybe the drip or squonk life isn't for you, which is why we have some fantastic RTAs on sale as well. Let me introduce you to the…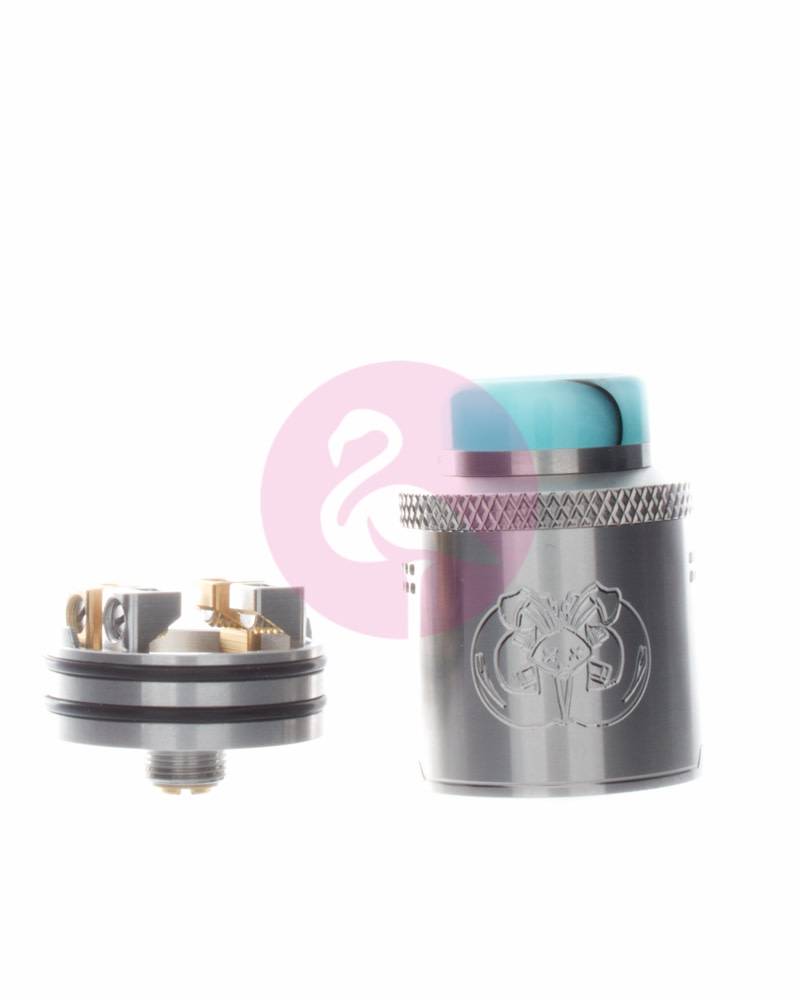 dotMOD Petri 24mm RTA – $69.99 (Regular $124.99)
dotMOD has been in the vape game for many years, and have always been known for their high attention to detail and fantastic build quality. I've always been a huge fan of their products because of their precisely tuned airflow and unbelievably comfortable drip tips, and luckily this isn't the only dotMOD product on sale for Black Friday! The Petri RTA has got to be one of the most flavourful RTAs I've ever used, it has a fantastic postless build deck with ample space for wicking which allows you to put in some surprisingly beefy coils. I would happily put this into the RTA hall of fame, I'd recommend picking one up on the first day of sales, because I know some of our employees are going to be snatching these bad boys up!
Oh yeah, did I mention every single part of this RTA is 24k gold-plated? It's going to look absolutely stunning on any single device you put it on, so if you're in the market I highly advise you to pick one up!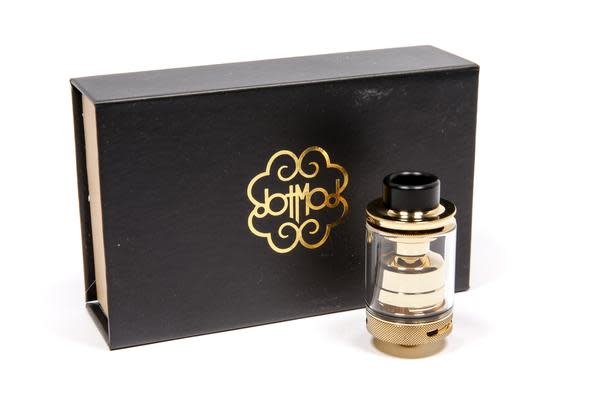 Pod Systems 
Suorin Air Plus - $24.99 (Regular $39.99)
Picking a pod system for this list was really hard to do because we have some fantastic options on sale, which are insanely discounted (I'll be picking a couple up for sure) so I'll have them in the honourable mentions!
The Suorin Air Plus is a massive upgrade from the original Suorin Air, and while it is definitely on the larger side for pod systems they make every millimetre count in this device. The most notable upgrade would have to be the battery size, as this slip system is packing a whopping 930mAh battery! Suorin decided to future proof this device by equipping it with a USB-C charge port which I'm a huge fan of compared to micro USB, along with having a beautiful and discreet battery meter along the side of the device that gives you 5 bars to let you know where your battery is at! I'm a huge fan of this rather than having the 3 light meter that so many pod systems give you, you can easily tell if your battery is at 100% or 60%, unlike most pod systems out there! The bigger 3.2mL pods may seem strange to some people at first glance as you actually hit this device at the corner, but once you start using it you quickly begin to fall in love with this super comfortable design that also gives the already ergonomic device a more unique look. If you're looking for your first pod or your fourth, the Suorin Air Plus is a great addition to any collection and with multiple pods available the Air Plus is ready to suit your vaping style.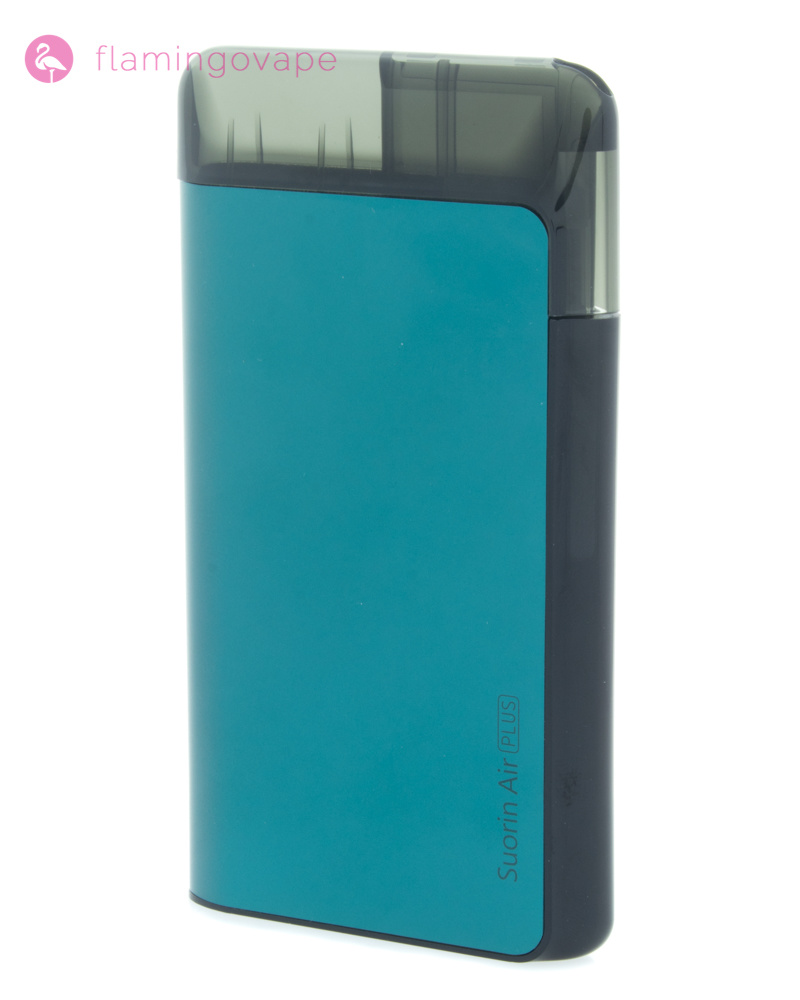 Mods
Asmodus Lustro – $49.99 (Regular $109.99)
Like the Swell kit from Vandy Vape, we have another device that is jam packed with amazing features that will elevate your vaping experience, and potentially make you feel like a bit of a wizard. The Lustro is not only sleek, but can be turned into a super flash device if that's more your style. It features a LED strip along the side of the device that can be used as a second counter, a flash light at the bottom of the device (which is my favourite feature), and the craziest part about it all… Motion controls. You can actually change settings on this device by using hand motions in front of the display, meaning if you have dirty or wet hands you can adjust everything without any worry. It of course boasts many other advanced temperature control features that most users won't use, but boy howdy do I love having another flashlight on hand, you never know when you're going to need it! With such a massive price cut on this device, this is by far my top pick for a regulated device with lots of power to play with that won't break the bank!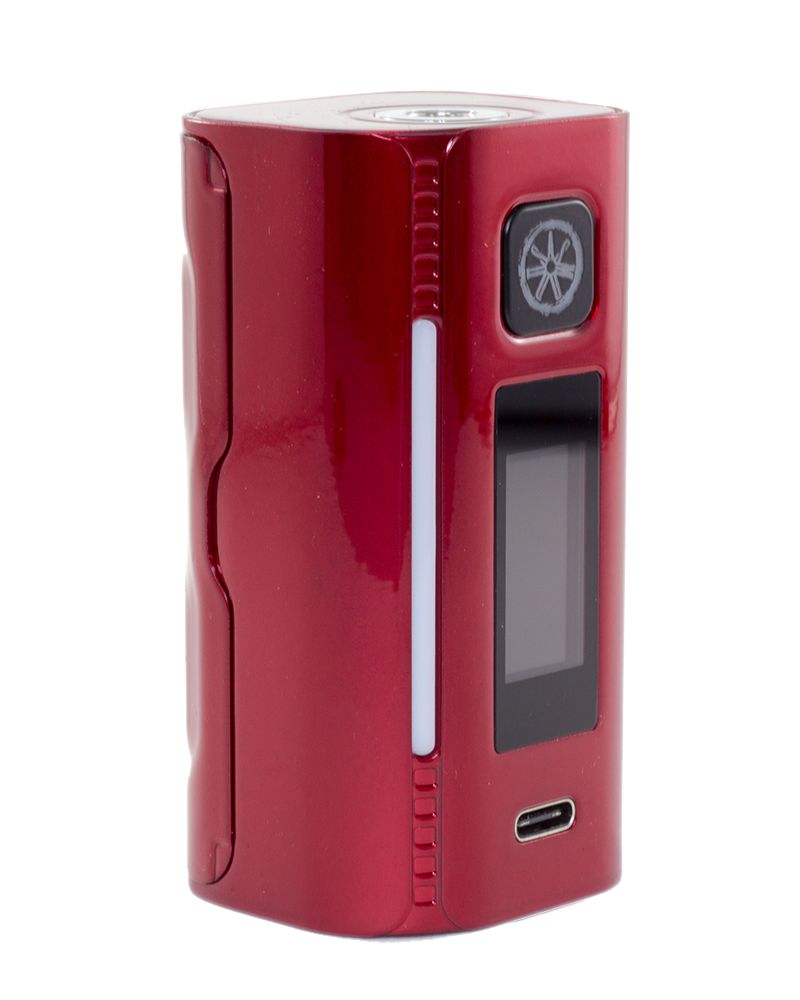 Accessories
Handful of must-haves
Now there's definitely a long list of accessories that we have on sale for Black Friday, but there's some very notable ones to point out that everyone should pick up!
Vape Mat
Whether you like building coils, or like PC gaming, or heck you might just need a mouse pad, this is a steal of a deal. It's a high quality mouse mat that is fairly large which is perfect for any desk, work station, etc., $3 there's no reason not to grab one. I'm honestly going to buy 2, you can't get them this cheap on Amazon!
Folding Scissors
Everyone needs a tiny pair of scissors. Whether you build coils or not, I have a pair of these in my room just because
Acrylic Mod Stand
These stands are great for displaying tons of things, if you're a collector then these are going to be a great thing to have for your collections! High quality and transparent.
Honourable Mentions
Now there's a heap of amazing items on this list but there was a couple more that I really wanted to highlight that I think y'all should be checking out! I won't go too in-depth with them, so I recommend diving deeper on their sale page!
Aspire Reax Mini - This is a fantastic MTL kit that's great for new and advance users! It has a super ergonomic design that feels comfortable to hold and comes with a flavourful MTL tank that Aspire is famous for.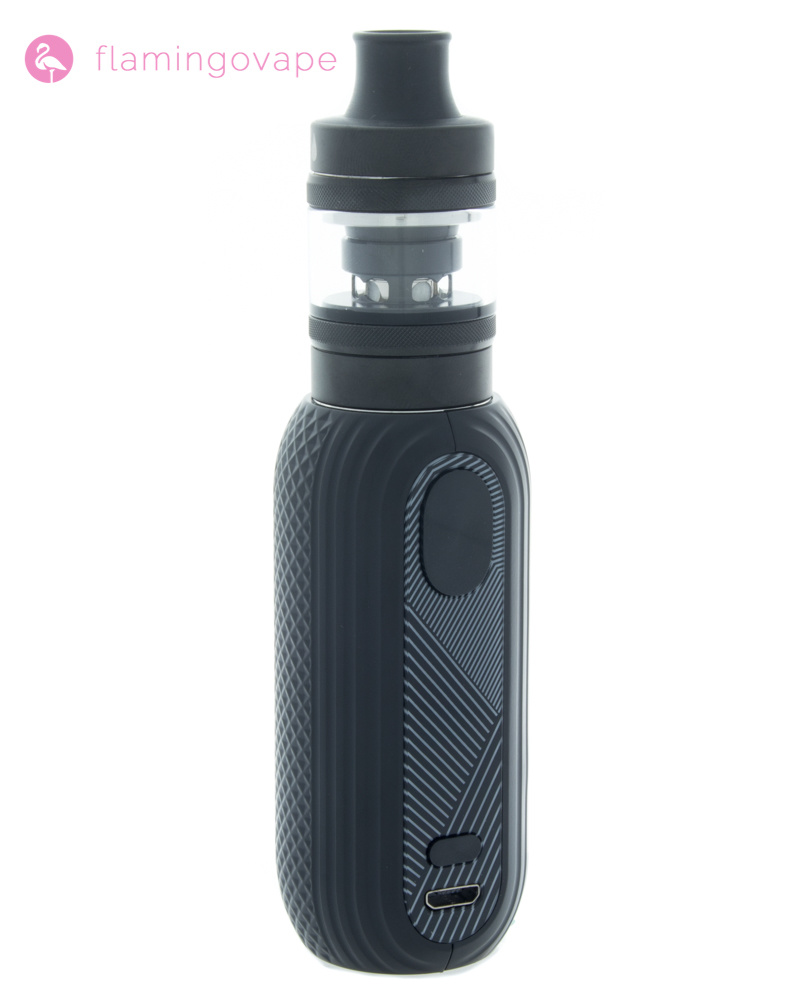 Cloud Science BOGO - Buy One Get One FREE on one of my favourite juice lines! I've been loving and vaping Delta for years (and it's in my tank right now!) go pick up some fantastic fruity flavours from these guys!
VooPoo Drag Nano - I love these little pods, and while they may not be firing as hard as something like a Smok Nord with a mesh coil, they do the job right in a stylish little package. I still grab my Nano because I love how tiny and well made this little pod is!
All the dotMOD! - Seriously, there's a lot of dotMOD stuff on this list. This is a crazy deal I didn't expect to see, so go look at the RDA, Squonk, etc. on the list, these are some fantastic deals on high end like you've never seen!
So now that you know some of my top picks, go check out the rest of the sale and get down to a flamingo near you to take advantage of these amazing sales! Happy Black Fri-Week everybody, and happy shopping!