If you're wondering "What vape setup should I buy?" Then this blog post is meant for you! This blog/video will show you how to buy your first e-juice, and vape! We give the full shop walk through to guide you on how to go to a vape shop and online store!
So if you've been considering making the switch to vaping and getting your first vaporizer, we wanted to give you some help on what to expect and what to look for when you get your first setup! 
Step 1: Picking out your Vape
The first thing to look at is what type of device is going to be right for you. Some people prefer huge clouds and lots of airflow, some prefer a device that will replicate a cigarette with a tight draw and not much vapour, and of course, there are options right in the middle! In our stores we have a few different tanks that we use to sample e-liquid, but if you have friends that vape, ask if you can try theirs! One thing I need to mention if you are just starting to vape, stay from unregulated/mechanical devices! These are very unsafe and should only be used after lots of research into safely operating them.
Step 2: Choosing your Nicotine Strength 
The next big step is choosing your nicotine level, and based off what device you chose is where we are going to start working from. If you chose a setup that's designed for huge clouds (like the X-Priv), you're going to want to stick to lower nicotine levels like 3MG or 6MG since you're getting so much vapour at once.
If you chose something more in the middle but still sub-ohm (Like the Uwell Whirl), anywhere from 6 up to 12MG (if you're a pack a day or over).
Now if you chose something with that tight mouth-to-lung draw like a pod system, you're probably going to need a higher nicotine level as you really aren't getting much vapour. Generally the lowest you'll want to go is 6MG, and usually go upwards of 12MG or higher. Many people are now using what's called "Salt Nicotine" which come in much higher nicotine strengths like 25MG and 50MG, and are only for use in these low powered devices. If you want to learn more about those, we've done a couple videos all about Salt Nicotine which we'll have a link to at the bottom. I've made a small chart that shows the nicotine level recommended as an equivalent to how many cigarettes you smoke a day. Of course, if you don't smoke then don't start using nicotine! We have lots of nicotine free options available for the devices that we carry.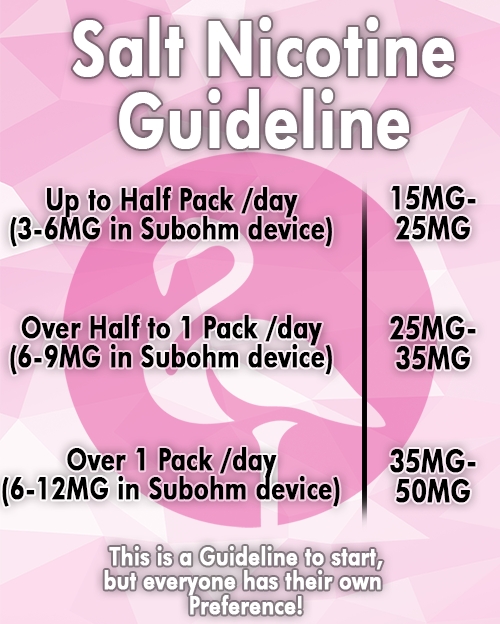 Step 3: Finding your e-Juice
Now once you've finished the hard part of getting everything set up, the fun begins. When you go to one of our stores, our staff are there to help you find the perfect flavour for you and let you know of the newest flavours on our shelves. We usually like to break it down to the 4 categories of Fruit, Dessert, Tobacco, and Mint. If you're visiting our website, we've laid it out to give you the best experience while searching for your e-liquid, giving you flavour descriptions and even seeing our staff's favourites! My 3 favourites are Space Rockz – Strawberry Kiwi Rock Candy, BLVK – Rich Tobacco with Custard, and The Baron's Breakfast – Apple Bread Pudding.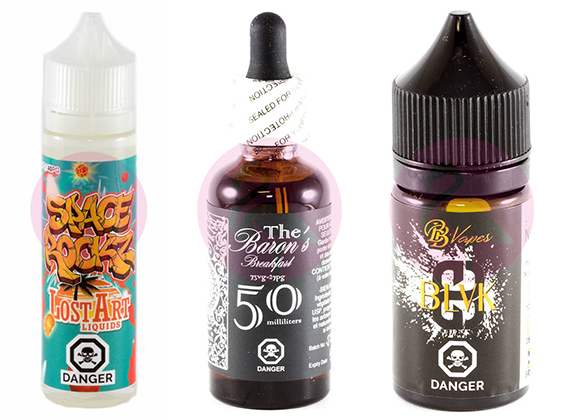 Quitting Smoking
Now that you've started vaping, all that's left is quitting smoking. Transition time is different for everyone, but making the effort to stop those cigarettes that are really important to you, like the first one of the day, with coffee, after a meal, etc. When you fully stop smoking and switch to vaping, or even just start vaping, you may notice yourself coughing at first, but it takes about 2 weeks on average for it to go away. This is mainly your lungs readjusting to something new, just like how you cough when you first start smoking. If you go to any of our stores, our staff is always ready to help you set up your new device, and answer any questions you have! If you bought the kit online, we recommend looking up a video online to help you set it up.
And that's everything! Now that you've started your journey of quitting smoking and making the switch to vaping, you'll be sure to enjoy everything that we have to offer. We hope that this guide helps you find your first setup, and make sure to follow us on social media for the latest updates for everything Flamingo!
Facebook: Flamingo Vape Shop
Instagram: @flamingovape
Snapchat: flamingo_vape
YouTube: Flamingo Vape Shop