We review the extremely popular Trinity Alpha by Smok. Does it live up to all the hype? Read more to find out!
Intro/Overview
The SMOK Trinity Alpha has come in from the shadows after the release of the Orion Q by Lost Vape. While following many similarities in design, SMOK was sure to create enough differences to make this vape unique from the rest. As was predicted, pod vapes are starting to look and perform more and more like traditional mods, with adjustable settings and ever increasing customizability it's making me wonder what could be next! 
Design and Build quality
Now while it may not look like it, this is essentially a Nord with adjustable power. It features a removable and refillable pod that uses replaceable Nord coils to cut down on plastic waste, and making it more affordable! The pod has an easy slide open cap to fill up a max of 2.8mL, which lasted me almost 3 days of vaping. The last note about the pod is the removable mouthpiece which I didn't realize initially. It's a tiny addition, but being able to add a touch of personal flare is definitely a big plus in my eyes, but if you like the stock black look you're in luck because Smok made sure the drip tip wasn't going to pop out without a fight!
On the top of the all-metal body you'll see the small tab used for removing the coil, I always recommend using it when inserting or removing the pod. The front of the device is where we find the firing switch that can also be used to turn the device on and off, and the small mode button below the 4 LED lights. Still not busy enough for you yet? The micro-USB charger is also on the front of the device, with the 4th LED being used as a battery/charging indicator that we'll dive into later.
Every button feels solid and clicky and along with the device itself, everything feels solid and has a very comfortable weight to represent its quality, I bet the massive 1000mAh battery they fit in here has something to do with it!
I do have one subjective con for this device and that's the "resin" that they're using on this device, because it isn't. Yes it looks nice, but it is a printed design so if you don't like the exact pattern that you see on the box then you're SOL, but this works the opposite way if you love it! Personally my favourite is the chrome colour way.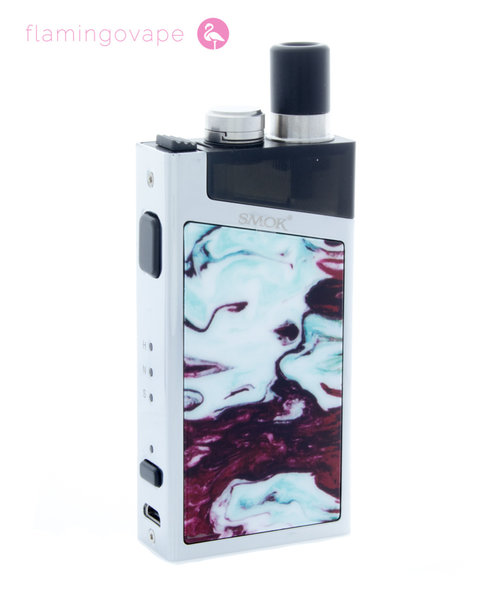 Pod/Coil 
If you've ever used a Nord you have a good idea of what to expect, but the Trinity Alpha does it with more airflow. The mesh coils produce fantastic flavours but you will not be getting a mouth-to-lung draw, but instead a full on direct lung draw that can yield some surprisingly large clouds. The 2 coils they include are a 0.6Ω mesh coil and 0.8Ω mesh coil, firing at a max of 25W and 16W respectively. If you use 50mg salt nicotine juices, these are not for you. I was using the 0.8Ω coil at the soft setting with 35mg e-liquid and it was still kicking my butt! Mesh coils should only use a maximum of 25mg, but I would suggest lower with the amount of vapour and airflow that you get from this unit. I never had the chance to test out the 1.4Ω, but that is one that is designed for high nicotine juices because I would just use freebase e-liquid otherwise.
The coil life is great, the flavour is great, they're easy to swap, but if you don't like a pod with tons of airflow (this one has 2 intakes!) then something like the Orion Q may be a better choice for you. If you like sub-ohm vaping and freebase nicotine, this is a great option for a super compact device for those days you don't want to lug around your mod. I liked running this pod system on the Soft setting as turning it up to High was too warm for my super loose mouth to lung hits, but everybody likes to vape differently!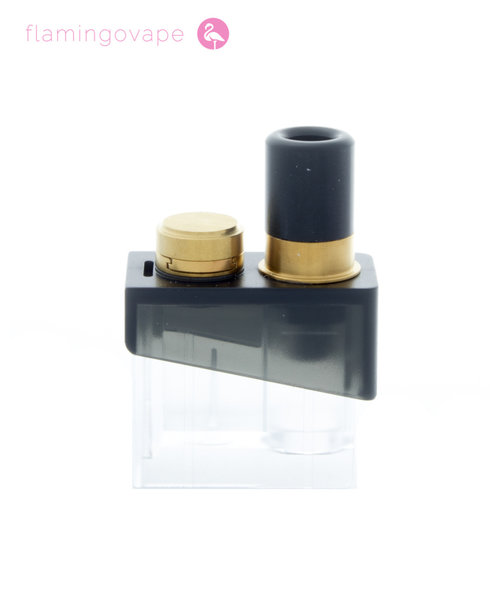 Battery Life and Charging
Let's get the boring part out of the way first, the Trinity Alpha charges in approximately 1-1.5 hours, fairly standard at this point. So when you're actually using the device, the coil you choose is definitely going to change how long your battery lasts. 0.6Ω will give the worst life with biggest clouds, 0.8Ω gave me all day battery life, and I can only imagine how good the 1.4Ω coil will be with the 1000mAh battery inside. 
The 4th LED light acts as a firing light and battery indicator, when the light shines green it's between 70-100% charge, orange is 30-70% (yeah, that's a huge gap!), and red means get your butt to the nearest charging port before it's too late.
Performance
The 0.8Ω mesh coil gave me fantastic performance, and with a drip tip more familiar to me I definitely enjoyed vaping on this device even more than the Smok Nord. Excellent flavour, crazy amounts of vapour, easy to fill and replace the coils, and a huge pod that holds enough juice for days! Again, this is a device meant for low strength salt nicotine or regular freebase juice, don't be silly and start throwing 50mg salt nicotine into this thing or you'll be having a bad time!
Pros/Cons
Pros
Uses Nord coils, lots of options

Adjustable power

Battery life indicator

Huge juice capacity for a pod system

Easy top-fill system

Solid construction

Removable drip tips

Cons
Fake resin

Very loose airflow (Subjective con)