We review the Drag Nano Pod system, does it live up to all the hype?! Read more to find out!
Intro/Overview
I'm sure you've been seeing this pod system pop up everywhere over social media, and for good reason. Voopoo has been shocking everyone with amazing products coming out one after another, especially from their range of full size mods like the Drag series! 
After the Drag came out they created the smaller Drag 2, then even smaller at the Drag Mini, and down to their smallest device yet the Drag Nano. This is an extremely small pod system that's packed with big features like the new GENE.Pod chip which offers a "cold boost system" which has made the vaping experience like no other pods, a MASSIVE 750mAh battery, and of course the famous drag styling we've all grown to love. 
We carry the Drag Nano in Klein Blue, Ceylan Yellow, Aurora, and Ink colour ways! You're getting a lot out of a pod system that costs only $37.99, so let's dive in and go over everything about the Drag Nano! 
Design and Build quality
The design of the Drag Nano comes from the Drag box mods, with its cut corners, resin face, and laser etched "DRAG" along the back of the device. It has a single piece metal casing giving it a very sleek design and the perfect amount of weight to give it a high-end feel in your palm. It has a mirror-like finish giving it a fantastic chrome look to it, and I can't tell you how many questions and compliments I've gotten while using this device over other pod systems, so it's very clear to see I'm not the only one that loves the look! A small circle can be seen on the side of this chrome body which is the battery/firing indicator that I'll talk more about later.
There are very subtle choices that Voopoo incorporated into this design to really put this pod above the rest when it comes to style. Unlike the Drag 2 (my favourite regulated device) the resin face on the pod matches the same shape of the laser etched "drag" on the back, helping solidify the Drag's dogbone shape in our memories which is similar to what Chrslyer did with the Jeep Wrangler's front grille. It also helps keep similarity when the pod flips around your neck.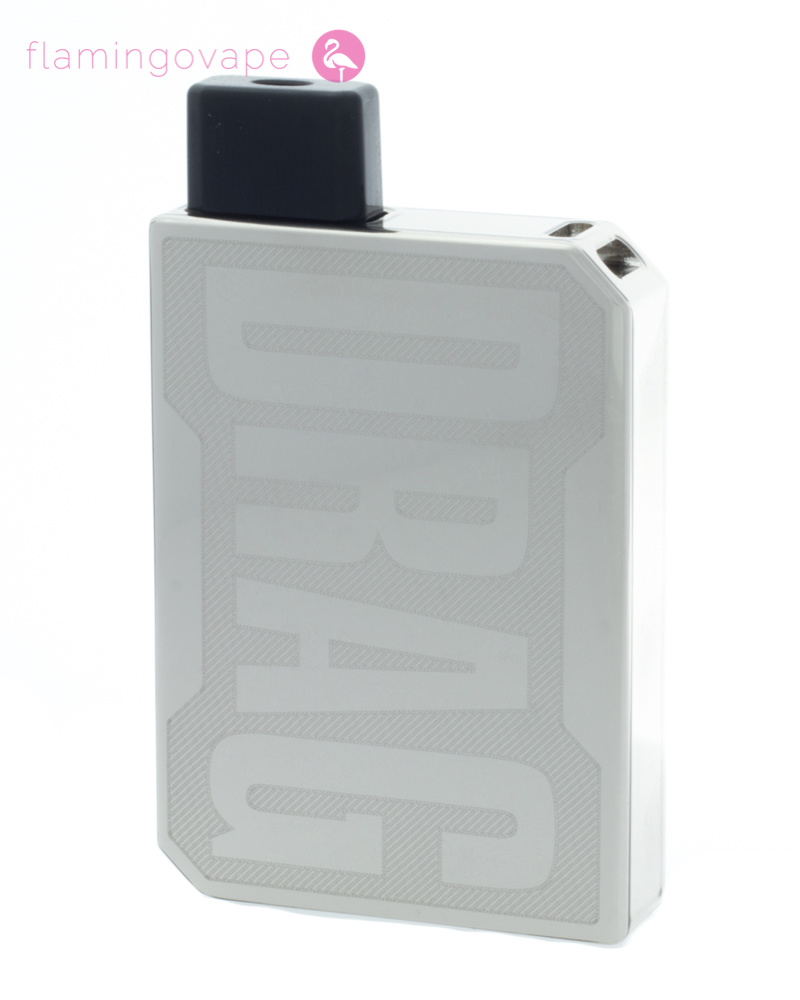 The bottom of the device is a seperate section that holds in the internals in place and has a contrasting matte finish with "GENE CHIP" embossed and etched, giving it an inverted style to the writing on the back! The micro-USB charging port even has a very high-end design to it, instead of having a simple cutout it provides a nice tapered wall to accommodate for wiggle room for different cables, along with helping prevent potential scratches from inserting a charging cable.
Lastly we're brought to the top of the device where we see the cartridge slot as well as lanyard loop to be able to wear it around your neck. I personally love wearing the Drag Nano with a chain because I tend to drop and misplace things especially at this size. If you don't like to use lanyards, this little device fits perfectly into the small pocket on jeans meant for watches!
Pod/Coil opinions
When I first opened up the package for the Drag Nano I almost thought I was given an empty Juul pod, and wow are they similar! They are very slightly narrower than Juul pods, and have a bit larger capacity coming in at 1.0mL, but appears to have an identical coil and chimney setup. This is definitely not a bad thing, while the flavour is not as potent as something like the Uwell Caliburn, it's still the equivalent to the Juul which is completely fine. If you end up using a juice that is too thick or you're heavily chain vaping and run into a dry hit, you can actually give the pod a little squeeze to instantly saturate your coil and have it go back to normal! And just to throw in there, I have had absolutely 0 leaking while using a 60VG juice which a big plus.
The coil that came inside my box performed okay but I believe it was defective, while it gave me an okay experience and good life I ran into occasional dry hitting issues along with it not sitting very snug in the device itself. When I swapped in a new pod a couple weeks after (you heard that right) I really started to enjoy using it, no more dry hits, more enjoyable vapour, and it finally gave me a satisfying click as I placed it into my unit. There is a miniscule amount of wiggle room when the pod is inserted to the battery, not at all noticeable until you sit there playing with it, and even that is not enough to annoy me in the slightest.
I will go deeper into how it vapes in the next section, but I do want to address the filling. To fill up the pod, you need to remove the black cap on top to reveal the small port on the side. My initial reaction is always to insert the tip of the bottle, however this can cause you to squirt the juice right back out which can be a little messy. I started to rest the bottle right on the edge of the port and leave the top exposed to let air flow out and it's been a dream ever since!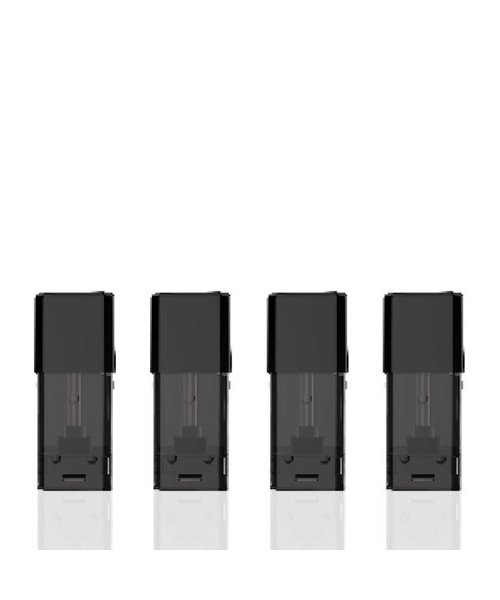 Performance
This device has definitely shocked me performance wise, not because of the flavour or the amount of vapour I'm getting, but the actual experience of using this pod system has been phenomenal! At the beginning I had mentioned the "cold boot pattern" which is something that took a week of using before realizing its purpose. You know when your coils are cold after sitting for a while, and usually pop as soon as it's fired up? Well this cold boot pattern actually detects this and delivers power on a curve to prevent e-juice from popping into your mouth, and seems to quiet down the general crackling of the coil in use. The Gene Pod chip provides such a consistent experience that it was almost hard to even realize it, everything simply works as you could expect it to and there's not much more I could ask for. 
Because this device is both tiny and draw activated, I expected a more restricted airflow. While the draw is not as tight as something like a Smok Novo or a Stlth, it has an extremely sensitive sensor allowing even the lightest drag to produce vapour, providing a very smooth but slightly loose MTL draw.
One thing to note is that this isn't the strongest pod system out there, but I've been extremely satisfied while using 35mg salt nicotine juices. Some people may consider it a downside but I personally prefer not getting overwhelming amounts of vapour because of the high nicotine content. It was vastly different compared to using a Trinity Alpha which is way too strong for myself, but everyone has a preference! This device is definitely discreet, and of course stylish.
Battery Life and Charging
When it comes to battery life, this things got it. I don't know how Voopoo managed to pack a 750mAh battery into this little device but they definitely  aren't lying about it. Consistently using it throughout the day I only ever have to charge it every day and a half to 2 days depending, I almost thought my battery meter was broken when I got this unit because it stayed green for so long! 
Charging the device usually takes me between 45-60 minutes using a 1A charger from absolutely dead which is amazing for how long this lasts me! I hate how so many prefilled systems (cough cough, Juul) take an hour to charge for a battery ⅓ the size lasting ⅓ of the time. If you wanted to get a Juul, think again!
Pros/Cons
Pros
Long lasting 750mAh battery
Consistent vape, never too hot or cold
Cons
1mL pod capacity, could be larger
Average vapour production.
Tricky to fill at first, port could be larger
Conclusion
This is definitely an outstanding pod system that I would recommend to any of my friends. If the pod was a slightly lower resistance I'm sure I would enjoy the vapour even more, but has still been a positive experience. If you want a super compact device that mimics the Juul but looks even better AND is refillable, then you've found your match!
Pick up a Drag Nano today by clicking HERE

Need replacement pods? Buy Drag Nano Replacement pods HERE